Summit Partner Mike Scherer Receives Significant National Award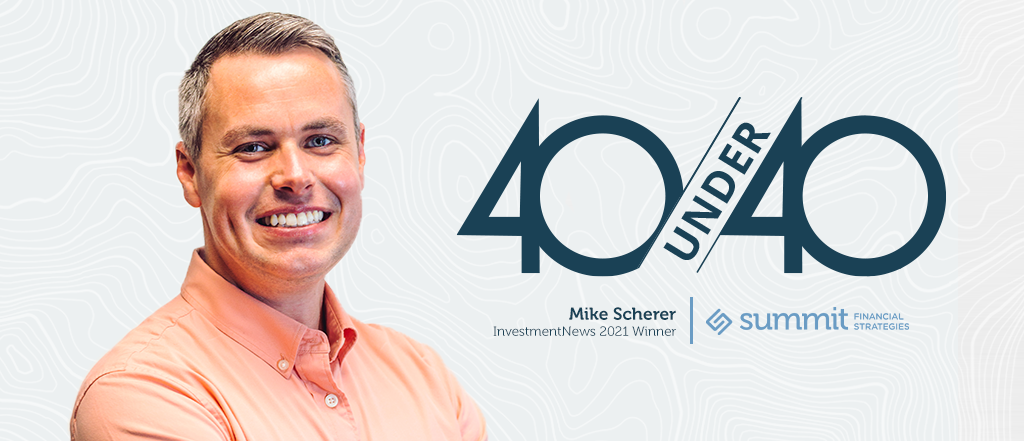 InvestmentNews, a leading source for news, analysis and information essential to the financial advisory community, has recognized a Summit Financial Partner, Mike Scherer as a 2021 40 Under 40 Honoree. Mike was chosen from a pool of nearly 1,000 nominees by a panel of reporters, editors and other representatives of InvestmentNews, to earn a spot on the final list of 40 talented individuals.
Mike Scherer has thrived in financial advisory, conquered cancer at age 26, and used his business and cancer experience to mentor and support others. Mike is not only a Partner here at Summit Financial, the only CNBC Top-100 firm in Central Ohio, but he's also our Chief Financial Officer, sits on our Management Team, and leads multiple company committees.

In addition to his impressive business accomplishments, Mike has also raised thousands of dollars for the James Cancer Hospital, while mentoring young cancer patients through the James and Imerman Angels, a Chicago-based non-profit for cancer patients and survivors.
"I've been given so many gifts and opportunities, and I sure as heck am not going to waste them. Beating cancer taught me gratitude – for my career at Summit, the wife I love, and the son I'm so incredibly proud of – probably my most proud achievement to this point."
To learn more about Mike and the other impressive 2021 winners, please visit www.40under40inadvice.com.