Summit Newsletter – November 2023
Thank you
for joining us!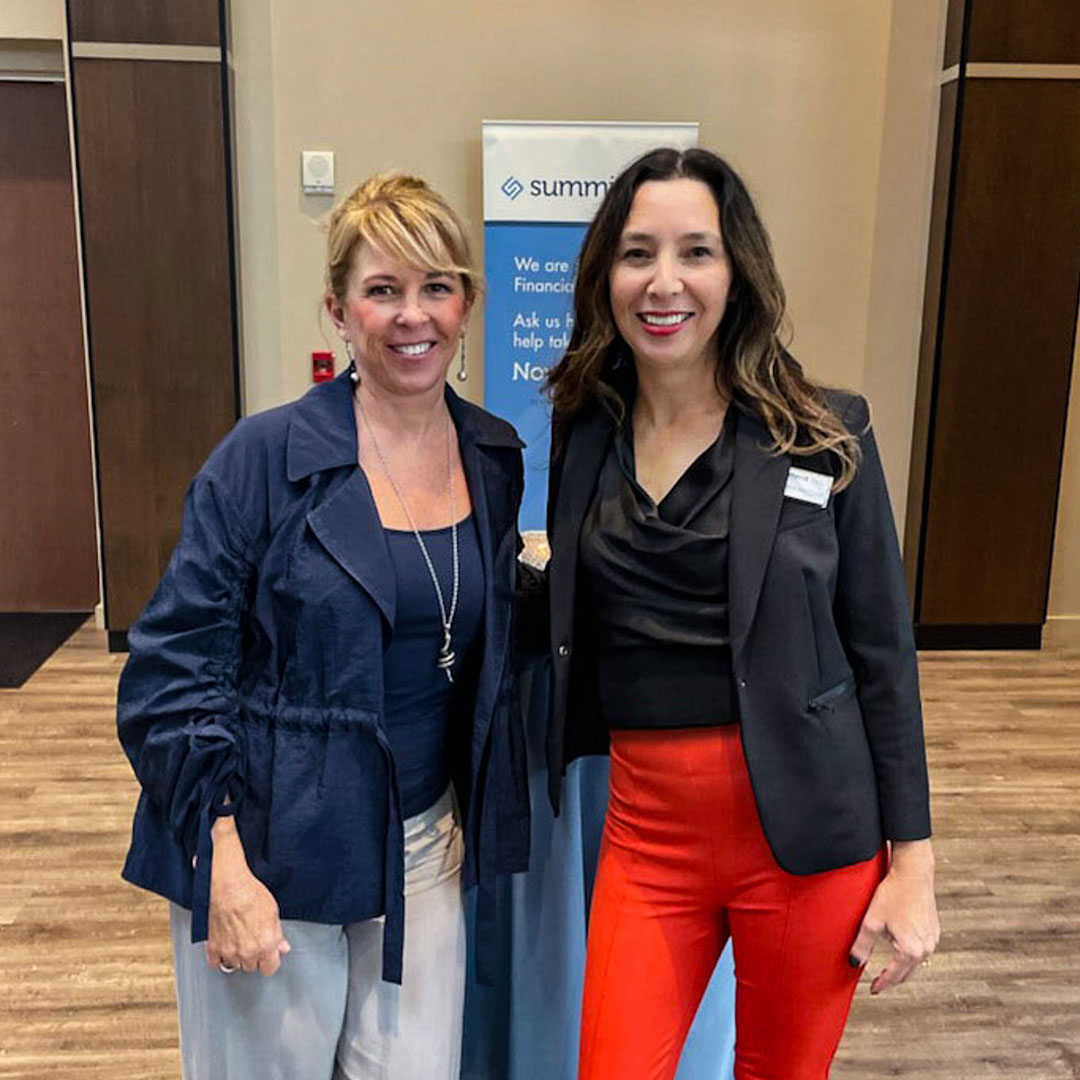 We had an incredible turnout for our Summit Fireside Chat on October 19th. A huge thanks to everyone who was able to join us for some amazing food, industry insights, and a very special Q&A with Summit CEO Samantha Macchia and Charles Schwab & Co., Inc.'s Managing Director and Chief Investment Strategist, Liz Ann Sonders.
Trivia


Summit
Family Updates

Do You Have
Unclaimed Funds?

Each year, the Division of Unclaimed Funds returns tens of thousands of dollars to individuals who discover the state is holding:
rent or utility deposits
uncashed checks
undelivered stock certificates
uncashed insurance policies
The division is responsible for handling funds that Ohio businesses or financial institutions were unable to return themselves to the rightful owner, typically in a period of three to five years.
If you'd like to see if you have unclaimed funds, or if you'd like to submit a claim, you can start here.
Supporting
Our City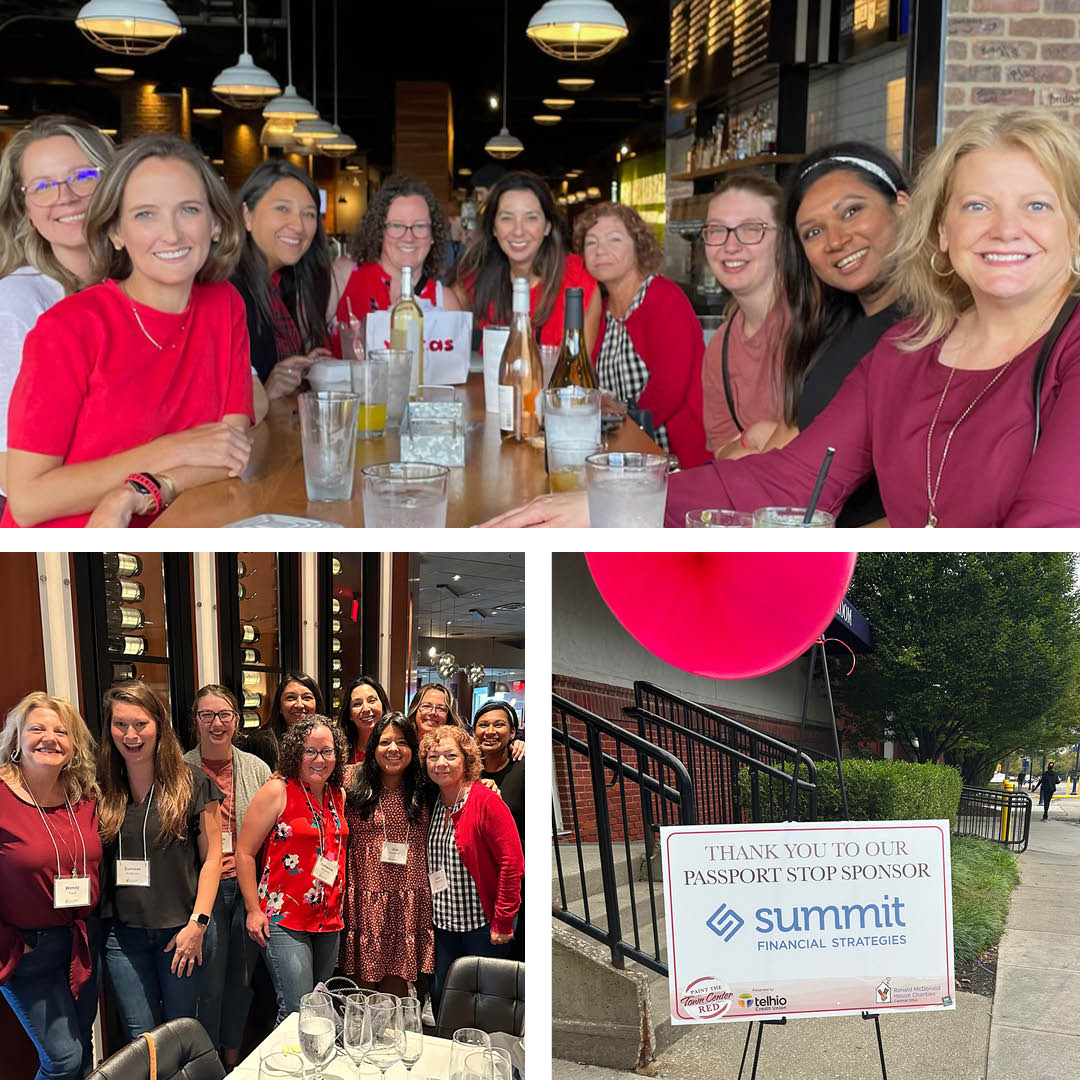 The ladies at Summit had the pleasure of attending the Ronald McDonald House Charities "Paint the Town Center Red" event at Easton. We were honored to be a part of such a special and successful event!
Investment
Commentary


As the weather turns colder, it's hard not to reminisce about just a couple weeks ago when I was soaking up the warmth on the sidelines of my second grader's final soccer game of the season. Sunglasses were abundant, and not a mention of fall or winter crossed anyone's lips. Fast forward two weeks, and we have broken out the heavy jackets as the kids bundle up like Stay Puft Marshmallow Men heading out the door to school.
The changing seasons always seem to come faster than expected. We know cold follows warm, but the plunging temperatures and gloomy skies often drag down our happiness and attitudes. We grow anxious for the inevitable blizzard that may disrupt our plans.
The market was full of sunny skies in July. Large cap domestic stocks closed the first month of the third quarter up 20+% year-to-date. Mid cap, small cap, and international equities hovered around +14% for the year. Financial news trumpeted the markets' proximity to new all-time highs. The rally continued into the July 26th Federal Open Market Committee meeting, where the Fed raised the federal funds rate for the 4th time in 2023. Having seemingly accepted "higher-for-longer," the market marched northward after the meeting.
Then Fitch Ratings rolled in like a dark cloud. Fitch is an international credit rating agency that rates the credit worthiness and likelihood of default in bond issuers. Fitch, one of the top three credit rating agencies, downgraded the United States from its coveted AAA rating. Fitch cited the "expected fiscal deterioration over the next three years, a high and growing general government debt burden, and the erosion of governance relative to 'AA' and 'AAA' rated peers over the last two decades that has manifested in repeated debt limit standoffs and last-minute resolutions." Twelve years after Standard & Poor's issued the first ever US downgrade, Fitch echoed similar justifications.
After twelve consecutive months of declining year-over-year CPI (Consumer Price Index), inflation ticked up at the end of July and continued rising in August and September. Economic data remained strong, unemployment stayed low, bond yields climbed higher, and equities pulled back. The third quarter offered few places to hide, as domestic equities, international equities, and bonds all finished lower. Equities remained positive for the year, while bonds went negative year-to-date.

The 10-year Treasury ended the quarter at 4.59%, a level not seen since 2007. With a nearly 3% spread between the 10-year Treasury and 30-year mortgage (compared to an average spread of 1.75% over the last 30 years), the 30-year mortgage finished at 7.31% – the highest since December 2000.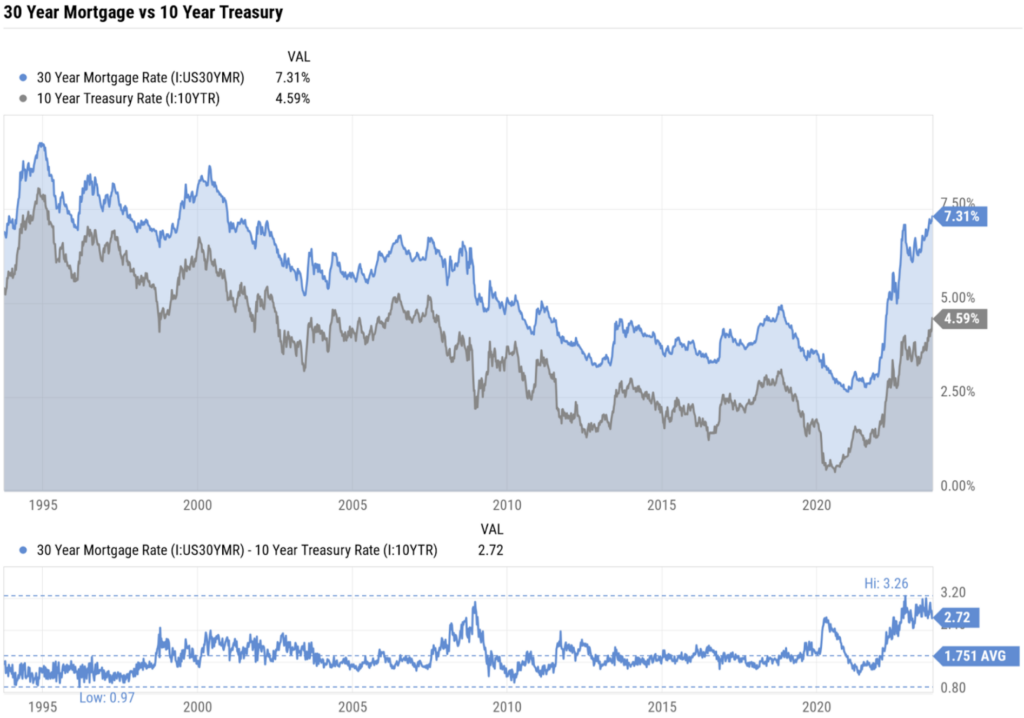 For the first time ever, three consecutive years of negative total returns are on the horizon for 10-year Treasurys, as rising yields push down bond prices. The jump in mortgages along with rising home prices from low inventory put home affordability at a 38-year low.
Equity markets remained divided, with mega cap stocks (primarily the Magnificent Seven) driving S&P 500 returns. The divergence is apparent when comparing a capitalization-weighted index of the top 50 S&P 500 holdings, the S&P 500, and the equal-weighted S&P 500.  
Despite positive year-to-date equity returns, the forecast feels gloomy. It's natural to fret over how long this unwelcoming climate will last. In times like these, history provides guidance. As JP Morgan's Guide to the Markets notes, over the last 43 years the S&P 500's average intra-year decline is 14.3%. Despite that, annual returns were positive in 32 of those 43 years.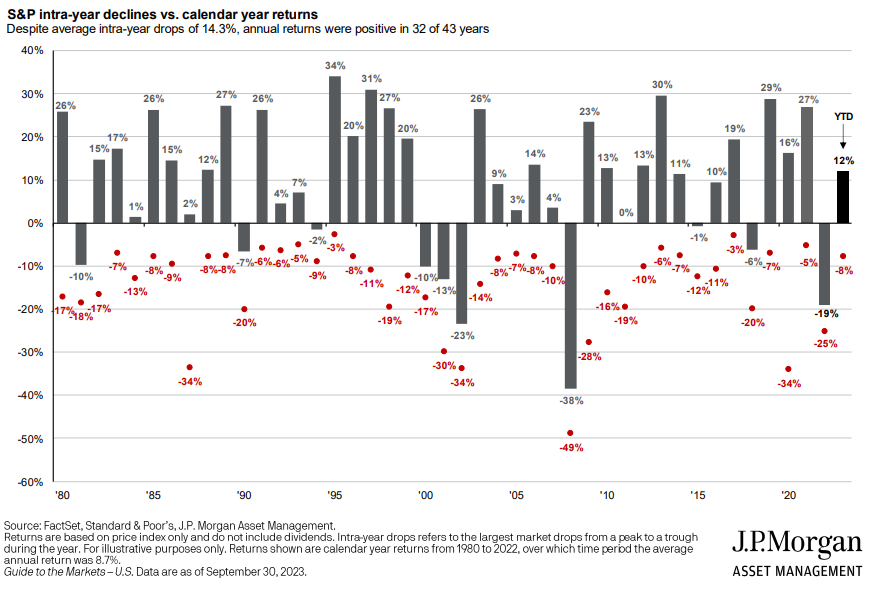 With cash (money markets and CDs) yielding 5%, many ask why not just park money there and wait for friendlier skies? But predicting when those skies will clear is impossible. The opportunity cost of sitting in cash could be massive. JP Morgan also notes that post-peak CD rates in prior hiking cycles, S&P 500 returns average over 20% the next 12 months, and bonds over 14%. Just as cash yields quickly rose to 5%, they may fall just as fast once the Fed starts cutting rates.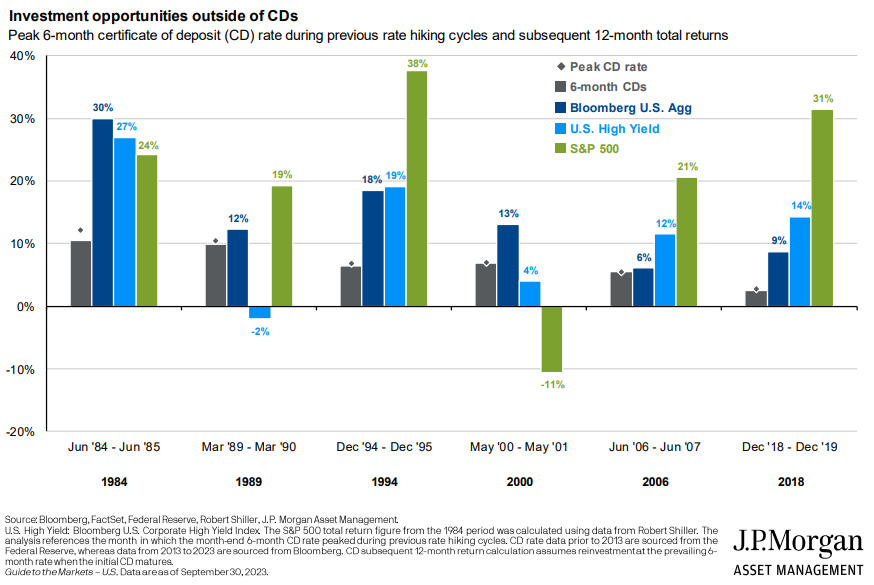 While the near-term forecast remains gloomy, we know the seasons inevitably change. Just as we rely on our heavy jackets to carry us through winter, we rely on our investment policy statement and core investment principles to guide us through these markets. We remain steadfast in our conviction that a well-diversified portfolio over the long term is best for Summit clients. Your advisor stands ready to capitalize on market movements through rebalancing and tax loss harvesting as appropriate. As always, your team at Summit is available if you have any questions or concerns.
Steve Cavalieri is Summit's Director of Research and a Staff Financial Advisor. Steve holds the Chartered Financial Analyst® and Chartered Market Technician® designations, and he is a CERTIFIED FINANCIAL PLANNER™ professional. He is a member of the CFA Society and the CMT Association, and a former board member of the Columbus CFA Society.
Trivia Answer: Brian's favorite pastime is off-roading in his Jeep. (Jeep drivers often put little yellow ducks on each other's vehicles. It's an inside joke and a random act of kindness among Jeep owners. Often called "Duck Duck Jeep".)